When Carter G. Woodson fell out with the imperious white president of Howard and was about to lose his job during his first and only year as Dean of the College of Arts and Sciences, it imperiled the Journal of Negro History. It was his pride and joy, his labor of love on behalf of the race. Today, many members of ASALH only join to attend the Annual Meeting. Others, to stay financial as members of their branch. Never get it twisted, for him ASALH was about the journal, the publication of knowledge about black folks. The Annual Meeting and eventually Negro History Week were vehicles to spread the word about the scholarship being researched and published. Without gainful employ, he would never be able to sustain the journal because he was largely funding it from his salary first a high school principal and then as a Howard professor. For five years, as we see below, he gave $1,500 a year–that's the equivalent of $35,350 annually.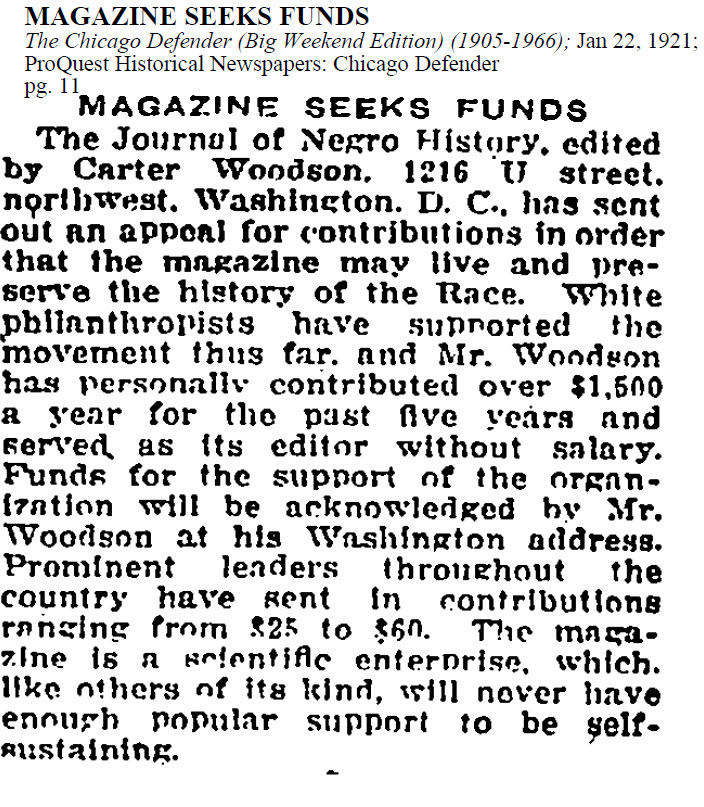 Now the Association had a board which was supposed to give or get money, but boards often mean well and do little. This is the case quite often among small not-for-profits and major universities. Woodson was pulling the journal weight by himself and was not only paying for the journal but serving as the editor and the director at his own expense, too.

Little has changed in ASALHland. Black history thrives as a discipline because of Woodson but there are few professional historians who would put money on the table to keep their journal alive. In 2017–despite there being no financial reason for doing so–a group of modern boomers of the golden age of black activism sent the JAAH to be managed by white folks. When asked why would Chicago do it when they wouldn't make much money, we literally heard that the white folks loved the journal and that was the reason for their wanting to publish it. (Don't doubt this account, there were almost 200 witnesses to this.) Then we heard from the national president that Woodson was willing to sell the journal to the NAACP, which meant he was willing to take white assistance. What was left out of that tale told by a leading scholar was that Woodson was desperate because he was about to be jobless. Moreover, there was no comparison between the ASALH of then and now because 1. The journal was making a profit of nearly $40K a year, and 2. everyone involved (except me) was being paid. Moreover, a group of us came in the meeting with $55k to show the seriousness of our intentions–only for another leading scholar to question whether I had $50k. (I don't live high like some of us, so I had it.)

If the academy ever finishes with its Negro project, it is not clear whether black folks would have a scholarly journal of African American history. Black Studies in the academy was born of protest and it is a dependent field of study. To be sure, it deserves to be funded, but for most it is a career, not a calling. Woodson was a rare bird.