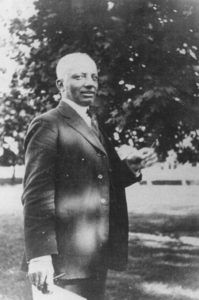 These former Presidents who signed the letter in support of taking the Journal of African History to the University of Chicago Press ought to be ashamed of themselves.  Here I speak of Betty Gardner, Robert Harris, Samuel Du Bois Cook, and John Fleming.  Gardner, Harris, and Cook held office when the journal was at Morehouse for that 25-year period, when Alton Hornsby kept the subscribers list and received all the revenue.  He often submitted reports saying they were broke without providing an accounting of the numbers. When the journal returned to headquarters, under the presidency of Gloria Dickinson, it came without either records of subscribers or documents about revenue.  In fact, back in those dark days when these former presidents sat the board, there were no IRS filings, and the only reports they had were cash roll ups.  I will never forget the day when I showed the treasurer that his numbers had to be false, and he sat behind a typewriter and created a new report without documents before him–he made it all up as I had suspected.  Oh, those were dark days–much different from those by the time of John Fleming who agreed to be president in part because I agreed to continue as Vice President for Programs.
So John Fleming should know better than much of what he says about the journal.  It was marginally profitable during his years.  Thanks to VP Franklin's regular production of the journal and decisions to raise the price slowly from $40 to $150 today, the journal has had positive revenue all these years.  So much so that we started charging salaries and overhead.  Now Bob Harris would not know this, because he was gone.  And John Fleming left in 2009–before we went digital.  Since going digital the revenue increased from $75,000 to a highpoint of $130,000.  With JSTOR's reduction in fees and leaving our current vendors, our revenue will tip $150,000 for the first time–but how would these past presidents know this.  They would not know about the current finances of the journal because there are no numbers provided by the regime they are supporting.
The letter also states that Woodson's Appeal made no money.  Now, in 2008 we were getting $1000 plus donations for the appeal, some as high as $5,000.   They are so wrong about that they should be ashamed.  Yet, Cook would have no way of knowing that.  Bob Harris had left the board, and yet John Fleming and Bettye Gardiner should know better, especially John.  I will ask him to personally apologize for that gross misstatement of fact.
Now two of these presidents were involved with the major financial disasters of our time in ASALHland, the Que Street Debacle and the Lost Treasures.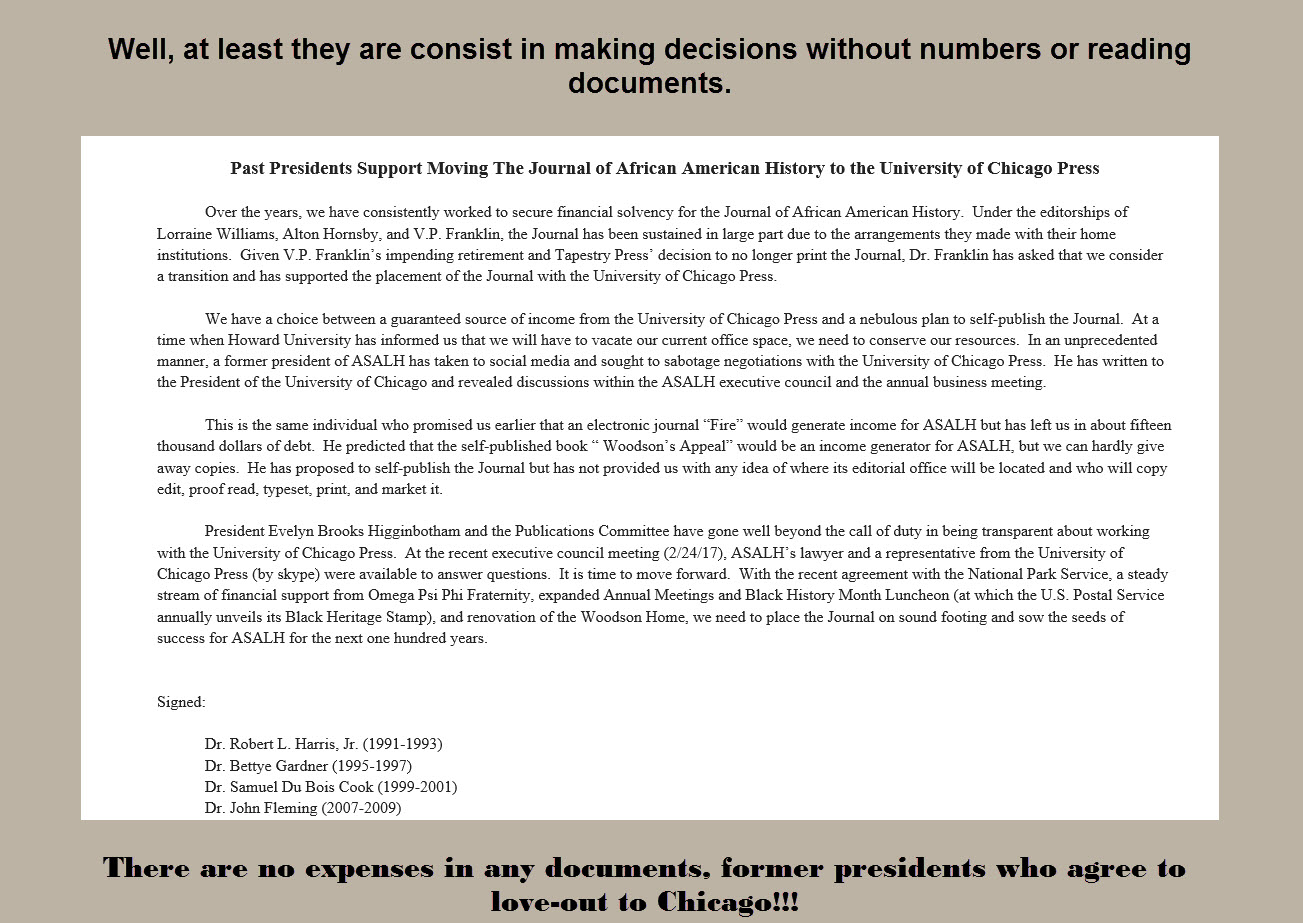 How Can You Sign on to a Project When No One Gives You Anything Like This?  Selling Out Woodson Without Reference to Numbers, SMH