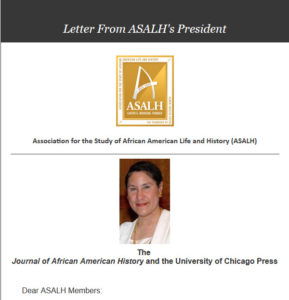 After disenfranchising the members of ASALH at the 101st Annual Meeting in Richmond, denying our constitution and by-laws and throwing out a motion during discussion, Evelyn Brooks Higginbotham got the board to compound her extra-constitutional action by authorizing her to sign the contract with Chicago. So much in this letter is inaccurate, but what is missing is more important. I will keep it to six points.
1. The contract with reduce our profit from the journal by $35,000 a year.
2. The officers told the membership in Richmond that the we would receive $100,000 in profit each year from the new relationship, but in fact the expenses that ASALH will incur will total almost $70,000–unless ASALH lays off staff.
3. The officers told the membership that every member would receive a print copy of the journal, and they will not. Only certain categories of members will receive a print copy–over half of the members will not.
4. Although ASALH will own the journal, we will be content providers and not publishers. We would own the farm and work the farm, but the white university press will manage us. Because of our scholarship, editing, and brand, we will feed them and ourselves, leaving us less profit than we make now.
5. Tapestry Press worked for us, now we will work for Chicago.  They were paid a fee for services, not a percentage.  They took no risk, we did.  We were liable for what we said–this is what publishers do. Publishers are shot callers and risk takers.  Now, Chicago is our publisher, and we are no longer the oldest black published journal in the scholarly world.  That title now belongs to The Journal of Negro Education.   As our publishers, Chicago will manage the affairs and cut us a check when we produce content.  Without an examination of either numbers or facts, our board believes Chicago can do it better and make us more money–and they won't.   That is because they still really don't understand what publishing is.  Now, those of you who love status more than independence, who love taking care of others as they tell you what they are doing for you, who love the ice in the other person's cup–the ice that you put there, then you should be happy with this new era of ASALH.
6. New issues of The Journal of African American History will no longer be part of JSTOR's database, and so each year the JSTOR archive will become less useful to scholars.
One fact will let you know how little the President still knows about the journal publishing business even a year later. Chicago is far from the leading publisher of journals. It is a very small fry with less than 100 journal. Sage publishes about 1,000 journals; Wiley, 1,500 journals; Frances Taylor, 2,100; Elsevier, 2,500 journals, Chicago publishes three times less than Cambridge or Oxford, less than the University of California Press, and not much more than Duke and North Carolina. It looks big only in the eyes of Penn State University Press and the University of Illinois.
Here is the letter in its entirety.