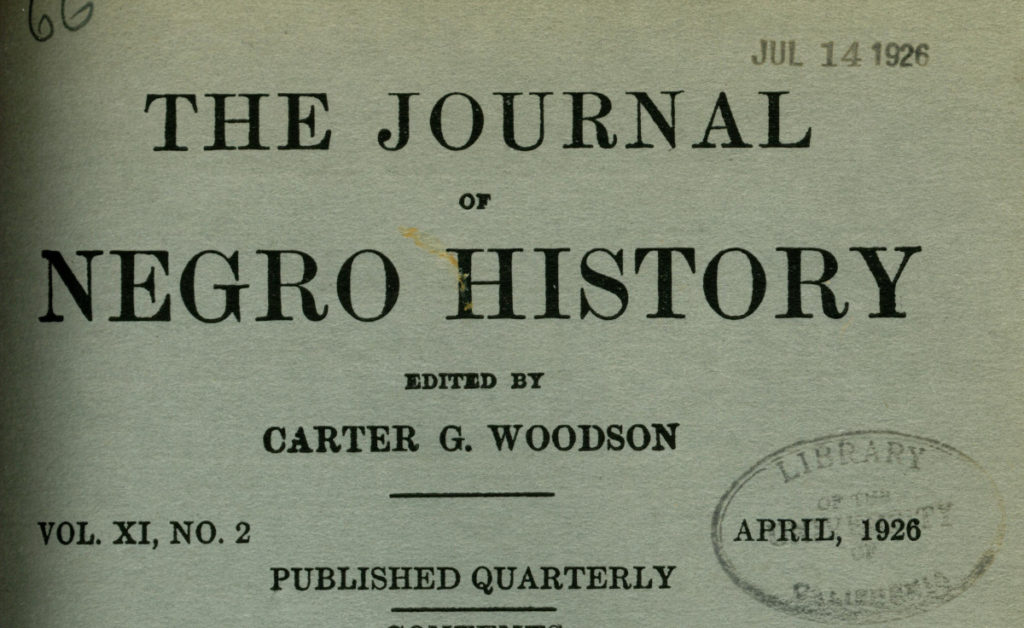 In this debate over whether we should continue independently publishing the Journal of African American History, one of the arguments made is that if the University of Chicago deal fails to work out, we can always return to self-publishing. Says Professor Sharon Harley in a statement to about the Chicago Proposal in a letter to the membership last fall after the Annual Meeting in Richmond:

Really? Someone just said, get out of a business and try to restart one in five years. Clearly these folks do not know the business, and will know even less about it in five years.
This glib argument arises from those who have never been part of making, marketing, and selling of the sausage. They don't get what they are saying. Let's flesh it out a little to see if it helps: If we close our store and let someone else manufacture and sell our products in their store, we always have the option of leaving them later and reopening our own manufacturing, marketing, and selling arrangements. That is more than a notion. That means you have to relearn your business, put up new start-up costs to manufacture, market, and sell your own journals. You would have to find new business partners who come in at the right prices. You might even have to find new sites to review your products to get you back out there in the marketing world and become apparent to potential customers again, click here for examples. Anyone who has started and run a business should know this is more than a notion, but let's discuss it. Perhaps this will make your eyes glaze over and make you realizing that going to the University of Chicago for a few thousand dollars could be the biggest mistake of all.
Few of the people on ASALH's board even had the vocabulary to discuss our publishing business. Sharon Harley, the chair of the committee, keeps referring to one of our vendors as our publisher. She did it as late as the Richmond meeting. If you don't know what a publisher is now, how do you return to "publishing." If you have never produced revenue-expense reports on the journal how would you know the true costs involved? The folks selling out said we do not have the capacity to fulfill our journal orders from headquarters. Our journals are not fulfilled from headquarters. They know nothing about a publishing work flow and how they are inter-related. They do not understand what all was involved in an editorial office, and connecting it to vendors, so how would they know how to set one up from scratch? They did not understand a word I was saying when I talked about digital platforms, publishing services, archives versus new scholarship, metadata, and the like. Five or six years from now, who would know all this and much more if the journal is published by a university press?
What decent digital platform would we had to re-establish ourselves as a publisher–not simply the owner–of the journal? By moving our journal to a university press that has its own platform, we would first and foremost have to take the JAAH out of JSTOR's Current Scholarship Program. To do this, we would have to violate the terms of our contract. This means that we would be leaving on less than the best terms. Mind you, I keep hearing we are not talking to JSTOR, Chicago is. This is a mindless. We have a twenty-year relationship with JSTOR, and we are not talking to them to see what they could do to keep us on board. We are leaving that to the University of Chicago, which means we are not doing our due diligence as frequently claimed. And worse still we are not acting the way good business partners should. Leaving on these terms, we might not be able to easily return at the end of any University of Chicago contract. Even if so, perhaps we will find ourselves in less favorable terms on any return. Maybe we will not be allowed back into the most important collection they have-if you understand what that means financially. If you are in the wrong collections, your sales will suffer greatly, by tens of thousands. Maybe we will have to market our journal ourselves as others are now doing on the platform. This would be an expense that we could not afford.
Besides JSTOR, there is only one other digital platform in the non-profit world for scholarly journals worth talking about, and that is Project Muse. We wanted to go to Project Muse, but they have a waiting list and an application process. What this means is that we could apply to become part of Muse and never get in after several years of trying. We could literally die waiting to get on Project Muse's platform after leaving Chicago because that deal did not work out.
We would be forced to go to a small commercial platform such as Allen Street. Small commercial platforms do not enjoy the status that librarians look to. And consequently, they carry journals that are not well known and respected. Librarians do not automatically look to them for titles, and they do not bundle titles. No, indeed, we would have to market our journals to libraries, which would cost us marketing money. We would not have the revenue to hire a marketing person to promote the journal to libraries. Today, every librarian knows JSTOR and they market our journal. We have had experience with this problem before. The folks involved here do not know that in 2009, before JSTOR's current scholarship program we went with a platform provider known as Metapress. Our digital sales went nowhere because they did not market our journals, and we had no budget to do so. Metapress failed, but fortunately we had already left them for JSTOR's New Scholarship Program.
We would also have to restart the print side of our business if we left Chicago. While print is declining as a product bought by librarians, the reality is that the print customers are the most reliable from year-to-year. Moreover, we will for long and perhaps always have members who prefer print versions of the journal. Given this, someone on ASALH's board will have to be knowledgeable about how publishing services work in the print world. In going to Chicago, we would end our relationship with the company presently providing most of those services, but who would keep abreast to changes in print? We produce the JAAH the way we do now to accommodate our editor who is nearing the end of his career and is not versed in new technologies. Who on the board would be there with the knowledge to establish a modern, stream-lined print program? The people on the publishing committee now do not understand the current arrangements and how they could be improved to save thousands in production costs. If they did, they would see that the entire monetary advantage of going to Chicago would disappear. When would this new knowledge appear?
Finally, does anyone on the board currently know who to publish a new title via the ASALH Press? That should tell you something about getting out of a business and thinking you can just step back into it. Be wary of people who speak easily about hard things they have never done. A business is an idea grounded in the nitty gritty.