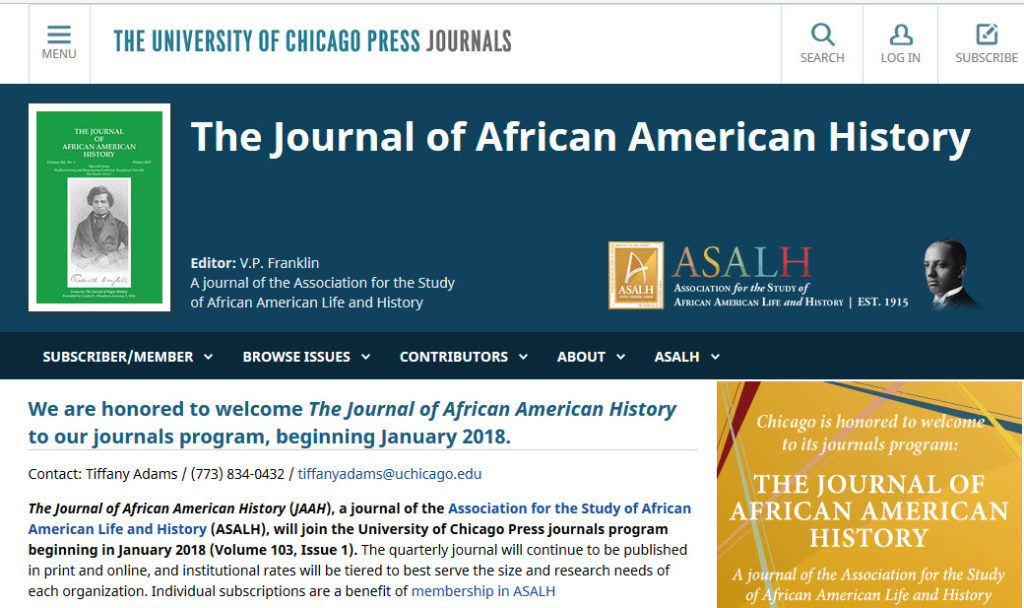 It bothers VP Franklin and Evelyn Brooks Higginbotham none that to sell out a century of self-publishing they have had to disenfranchise the membership and make less money. Why let an organization of black folks get in their way? A graduate of the University of Chicago, Franklin with whom I labored for thirteen years gets to be the editor for a whole year at a journal published by his alma mater. For Evelyn, whose ASALH accomplishment before becoming ASALH president was to write a fund-raising letter, this is the crowning achievement of her presidency and her time on the board.
Now both still try to pretend that the white folks who used to work for us, Tapestry Press, was our publisher. This is largely because they do not really know what a publisher is. Believe me, documents will bear this out. They cannot distinguish a vendor from a shot caller. Yet publishers get a cut and are liable for what is printed, thus they are the decision makers. Ask a lawyer filing a libel suit and they'll tell you who is the publisher. And Chicago has a clause in the contract saying that the next editor has to be agreeable to them. Now, Tapestry had no contract and printed whatever we told them. We could have told them to print that the white man is the devil, and they would have done it. That is what printers do. Say something Chicago doesn't like, and you'll meet your boss, baby–even if you own the journal.
The membership does not have to take being disenfranchised and having its authority usurped lying down. Before we were disenfranchised we were told everyone would get a print copy of the journal. That is not true. We were told that the $100,000 would be all profit–the only money they'll make will come from cheating people out of the promised journals. Indeed, we will make about $35,000 less than before. And our new issues will not be in JSTOR. Worse still, worse of all, we will no longer be the oldest scholarly journal published by a black organization in the world. Nope. We gave that up for the look of being a University of Chicago Journal. Wow, how black is that?
By the way, until now, the board has not voted to give VP Franklin the $5,000 raise he has been looking for. If so, ASALH will make about $40,000 less than it has been making. In ASALH world, where deficit are frequent, this is more money than you know.