How Much Is Due to Ignorance?
When the regime running ASALH started down the road towards selling out to a university press, they did not fully comprehend the concept of a publisher for a scholar journal.  They thought of ASALH as having a white commercial publisher in the Tapestry Press, and they clung to this position even as I tried to school them.  Though a publisher in its own right, we hired Tapestry to provide us with some publishing services. They copy-edited and designed the journal, then sub-contracted the printing and fulfillment.  For this they were paid a fee, and could not claim the copyright, could not claim the revenue, and did not promote the journal or become liable for the veracity of the content.  They were a vendor; we were the publisher.  We were liable for what we put before the world.  We were our own Big Poppa.
As a result, our brand was out front, and our vendors stood in the background, for the most part.  JStor itself is so big that even though they were never our publisher, we were and are on their platform and so they branded along with us, though they are technically.   How much of this education in publishing sunk is unknown. These folks were trying hard not to hear me.  Some knowledge, however, did slip in.  Most grasped that a publisher is not a print, lol.   Well, they increasingly understood things, at least in theory, even as they kept saying to folks that we had had a white publisher in Tapestry.
What they did not really did not understand is what it means to put your journal under the management of a publisher.  They kept harping on still owning the old intellectual property and the journal itself.  Yet ownership and control are two different things!  And as publishing scholars, many of the board members should have known that.  We own copyrights and yet don't control them–that is an academic reality.  I kept trying to tell them that the Chicago contract would be akin to owning a farm and continuing to do the labor but putting yourself under the management and control of a white company.  The publisher is The Man.  They call the shots.  You become "one of their" journals.  They control you, past and present.
To see the difference between being the publisher and the content provider is best seen on what is happening in JSTOR Archive.  We still self-publish the Black History Bulletin, so I looks as we would want it.  We don't publish the Journal of African American History and we don't control the copyright of the previous journals, so it appears as the University of Chicago–the Journal's Big Poppa–would have it.
ASALH as Publisher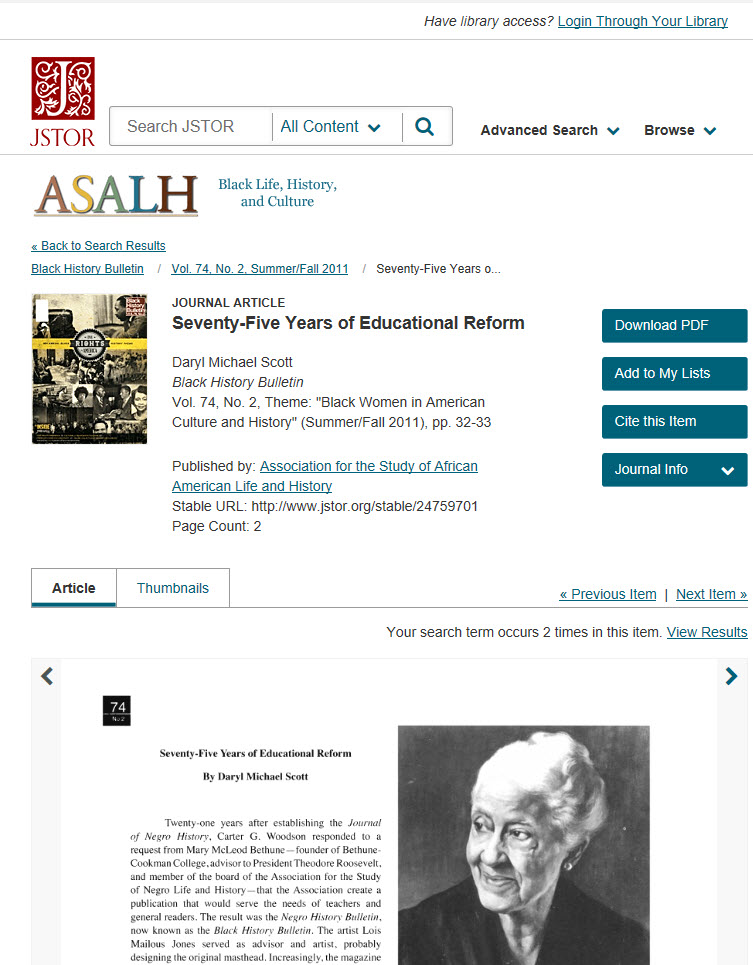 Chicago as Publisher of Journal of Negro History
Well, Here is how the article from the Journal of Negro History now appear under the University of Chicago's control of ASALH's intellectual property from the days of yore.  Oh the ASALH branding is gone, disappeared. If you did not know, you would not know, that the Journal of Negro History was published by the Association for the Study of Negro Life and History.  It says, published by The University of Chicago Press.  Why? Because the regime gave them the control over the copyright and they decided how to brand it and they now "publish it."  Mighty white of them, at it?  Now, actually, mighty dumb of black folks.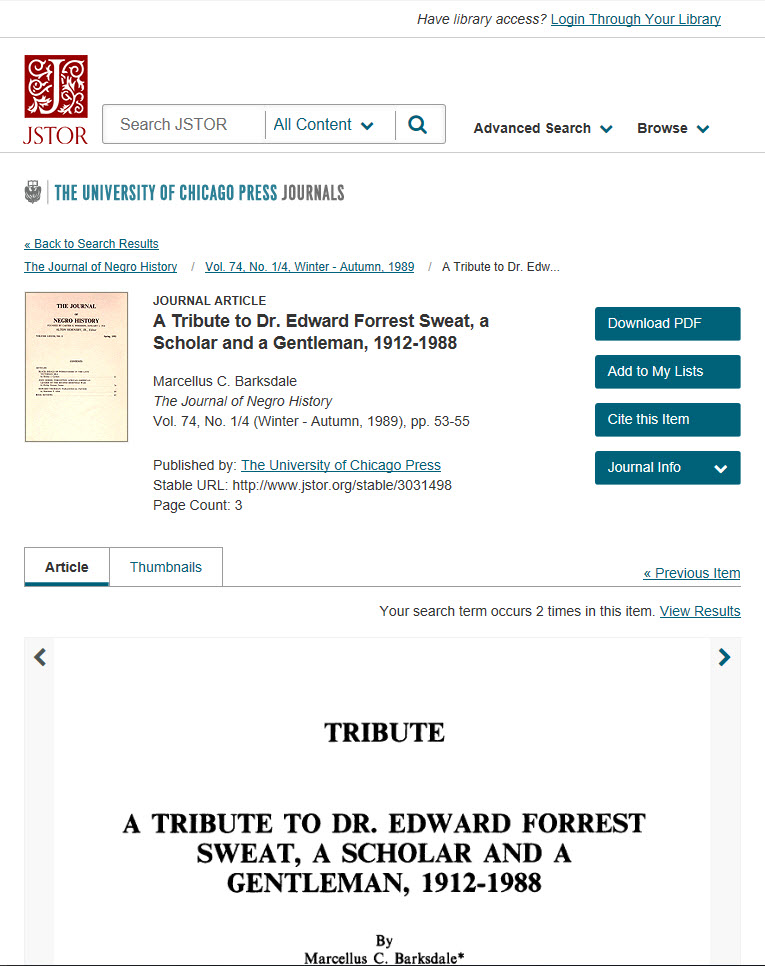 Half Assimilated or Given a Modest Bit of Branding?
When you are the shot caller, or the publisher, you decide how things appear, how they are branded unless a contract clause prevents you.  It is mighty nice of them to decide that the Journal African American History articles, those from 2002 forward will remain on JSTOR's platform and still carry the ASALH brand.  Or perhaps the assimilation process for ASALH's JAAH is simply not complete.  Feels good to be half-assimilated, rather than wholly gone, huh?
Now, I note that something else is different with the newer, JAAH articles on JSTOR's platform.  It appears that you can no longer see the full text on JSTOR for articles published after 2009.  You can only download the pdf.  Why that is unknown to me.  Was this done by Chicago as the new publisher of old things?  I'm clueless, and I imagine so are the powers that be at ASALH.  Publishers are shot callers, not the folks who are content providers.
Not Everyone Is Down with Being Assimilated
If you are even just a pluralist or multiculturalist who believes in some modicum of self-determination, none of this sits right with you.  It looks like ASALH begged to be assimilated by the mighty Borg, AKA, the University of Chicago Press.  Here's my facebook thread about it from October 11, 2017.

Well, Now that You Have a White Boss the Remedy Should Be Familiar
For ASALH people who do not like this state of affairs, all you can do in the short-run is scream bloody murder and complain about white supremacy.  Mind you, the regime asked for this.  For less money than we were making, they wanted to get close to Chicago and let them publish us.  They said it was all profits and that Chicago just adored our journal.  We were free, self-standing for a century, but some black folks wanted back on the plantation.  Self-Determination did not feel right!  So now black folks can complain to white folks about how they are being done wrong, smh. Don't blame white people; we have only ourselves to blame.  We asked to be incorporated, then signed on the dotted line.